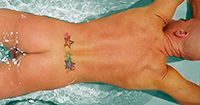 I am normally available evenings only during the week, as indicated below, and I'm usually available all day at weekends. Occasionally, and only if indicated below, I am available some mornings.
I can only visit you in your home, or hotel room - I cannot accommodate. I can arrange a hotel room for you if you are unable to do this. There are the occasional dates where I can accommodate, and you can come to me, click here to see these dates.
The start time of your massage will depend upon the distance I have to travel to get to you. Please click here to enquire what time I could be with you.
The table below shows when I'm available for the next eight weeks and is regularly updated.
For more up to date availability please text me, or WhatsApp me, on 07879 491368 and I will reply as quickly as I can.
Please remember, this page requires a manual update by myself and if you're seeking a last minute slot that shows as available below... it may not be... just text or WhatsApp me to check, and if I can help, I will.
KEY:
| | |
| --- | --- |
| "AM" = MORNING | GREEN = AVAILABLE |
| "PM" = AFTERNOON | RED = UNAVAILABLE |
| "EVE" = EVENING | PURPLE = MAYBE |
SUN

16 Jan
AM
PM
EVE

23 Jan
AM
PM
EVE

30 Jan
AM
PM
EVE

6 Feb
AM
PM
EVE

13 Feb
AM
PM
EVE

20 Feb
AM
PM
EVE

27 Feb
AM
PM
EVE

6 Mar
AM
PM
EVE

MON

17 Jan
AM
EVE

24 Jan
AM
EVE

31 Jan
AM
EVE

7 Feb
AM
EVE

14 Feb
AM
EVE

21 Feb
AM
EVE

28 Feb
AM
EVE

7 Mar
AM
EVE

TUE

18 Jan
AM
EVE

25 Jan
AM
EVE

1 Feb
AM
EVE

8 Feb
AM
EVE

15 Feb
AM
EVE

22 Feb
AM
EVE

1 Mar
AM
EVE

8 Mar
AM
EVE

WED

19 Jan
AM
EVE

26 Jan
AM
EVE

2 Feb
AM
EVE

9 Feb
AM
EVE

16 Feb
AM
EVE

23 Feb
AM
EVE

2 Mar
AM
EVE

9 Mar
AM
EVE

THU

20 Jan
AM
EVE

27 Jan
AM
EVE

3 Feb
AM
EVE

10 Feb
AM
EVE

17 Feb
AM
EVE

24 Feb
AM
EVE

3 Mar
AM
EVE

10 Mar
AM
EVE

FRI

21 Jan
AM
EVE

28 Jan
AM
EVE

4 Feb
AM
EVE

11 Feb
AM
EVE

18 Feb
AM
EVE

25 Feb
AM
EVE

4 Mar
AM
EVE

11 Mar
AM
EVE

SAT

22 Jan
AM
PM
EVE


29 Jan
AM
PM
EVE


5 Feb
AM
PM
EVE


12 Feb
AM
PM
EVE


19 Feb
AM
PM
EVE


26 Feb
AM
PM
EVE


5 Mar
AM
PM
EVE


12 Mar
AM
PM
EVE

Updated: 16th Jan 2022