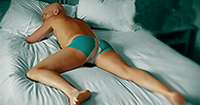 I offer a unique and exciting service where you can either request to watch - or be watched. It can be quite a fascinating experience and perfect for the voyeurist or exhibitionist inside you!
As a watcher you will be in the same room as the massage is being performed. You can be wherever you like in the room - as long as you're quiet and don't hinder my job as a masseur. It will be like you're not really there. I will perform the massage as if it were just the client and myself. The watchers state of dress usually matches ours - i.e. naked.
Naturally, this experience has a very sexual edge to it. There are no strict rules on what may or may not happen - every watching session is different... the situation needs to be judged at the time, but people aren't usually disappointed - or objective - to anything that might happen - it's between you, me, and the client. Sometimes more than one watcher can attend.
I charge a small fee for this privilege.... £20 to watch me perform a massage at close hand. Please note, the client being massaged also incurs an additional £20. As a watcher you may accompany me from Swindon on the journey - or make your own way there, it's up to you.
Just pop on over to my Contact Me page and join the Rainbow Massage Club (it's free and all I need is your email address). Then, as and when a request comes up for a watcher (or someone who wants to be watched), you will receive an email from me... just reply if interested - and we'll take it from there.