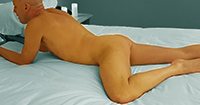 My name is Martin, and on first meeting me, you will find me very friendly and easy to get on with - I have a very gentle nature and am very eager to please. Some of the pictures you might have seen of me may make me look moody, or even intimidating (apparently) - rest assured, I am neither of these things - very much the opposite and very friendly and easy going!
After I've set the mood of the room with the relaxing music, and we've both undressed to naked, you will then lay on the bed (or table if you prefer) face down. I don't usually cover my clients - which is why I ask you to make sure the room is nice and warm beforehand (but not too hot). I find this more sensual and intimate and as I am naked also you have no need to feel uncomfortable or vulnerable. Nerves are very normal, and will very quickly dissipate within minutes of my contact.
Many people ask why I do it naked. I have a couple of reasons: Firstly, I am not ashamed of my body and am very comfortable being naked - it gives a great sense of freedom! Secondly, I feel it puts me on the same 'level' as you, the client, so that you feel less vulnerable and more at ease. It also greatly adds to the sensual and erotic nature of my work. If you'd prefer me not to be naked then I can keep my underwear on. Just let me know your preference. Naked is usually assumed.
Once you are comfortable I then begin. Starting with your back and shoulders, working from either side alternately and also from where your head lay. This takes up almost half of the massage. Within a very short time of my hands coming into contact with you, you will begin to feel very relaxed and should feel very comfortable with what I'm doing.
Moving down to the backs of your legs (one leg at a time), I include your inner thighs and bum. Once I've finished with your legs, I then ask you to turn over and I finish off by gently massaging your chest, tummy and fronts of legs, including your inner thighs again.
This whole process can take up the whole session - but we can deviate as and when required. If you'd like to see examples of what the massage looks like, please scroll down. Or click here to see videos of me in action on my OnlyFans page... (WARNING: this link contains more than just massage videos- NSFW)!
The massage is very sensual and is often erotic and sexual.
I bring my own towels, music and oil. Although most sessions are normally performed on your bed (which involves lots of body contact), I do also have my own portable table if you prefer, and if you have room - whatever is most comfortable for you. For those of you who are more tactile you may prefer the bed as it does involve a lot more body contact, inevitably. Please let me know when booking if you prefer the table, the bed is always assumed and default. If you are in a hotel room then we'll always use the bed.
If you'd prefer your own music or oils then that's fine also - just let me know. I bring with me my own music player with a good quality speaker which creates the mood perfectly.
If you'd like to switch places with me then I can offer this as part of my service also, click here to find out more about Rainbow Switch.
I cannot normally accommodate at my home - I usually come to your home, or hotel room.
Please also note: I have very few restrictions or limitations on who I massage - I try to keep it open to as many people as possible - but I try to keep within the age range of 20-75. (I'd rather not be massaging people older than my parents). I do hope this doesn't offend too many of you and I apologise if it does.
Total respect is always guaranteed & expected both ways. Complete discretion assured at all times - my reputation is core to my business. Please ensure you've read and understood the information on the My Sexual Health page, as well as my Cancellation Policy.
In addition to this, if you feel you would like some extra time with me after the massage - for chat or further contact, or just some company, I can offer 30 or 60 minutes extra. This is to be prearranged and does not mean you get less of a complete massage if you don't have extra time. Also, if the session happens to last longer than 90 minutes you do not have to worry - you won't be charged extra, unless it was agreed beforehand.
ALL IMAGES ARE OF MYSELF PERFORMING A MASSAGE. THESE IMAGES MAY NOT BE USED ELSEWHERE WITHOUT MY PERMISSION!