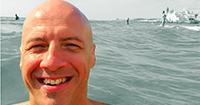 If you're within 10 miles of my home here in Swindon I can come to you for up to an hour and a half of sensual naked massage for just £75 (£65 for 90 minutes of massage, plus £10 minimum travelling charge). Most people prefer this length of session because it feels less rushed, but If you'd like a shorter 60 minute massage, it will be £15 less.
I have a reasonable additional mileage rate (below industry standard) to mostly cover my fuel and running costs. It's based on distance/time - I profit very little from the travelling! See below for a map of the area I'm happy to cover - it's quite large! (Please note, my minimum travelling charge, outside of Swindon is £20).
Scroll down to the bottom of this page for a detailed price breakdown of all my services and options!
Extra time
I can offer you extra time after the massage, for those that would like a little more time with me for chat, further naked fun, or just some company - ask me if you're interested. This is charged at £20 for an extra 30 minutes, or £40 for an extra hour.
How much will your session be?
If you would like to know the total cost for me to come to you then let me know where you are (town or postcode), and if you would like extra time or not, and I will get back to you with a total price - it'll probably be less than you think! Click here to ask or send me a message via text or WhatsApp. If you would like me to book a hotel for you then please let me know this information also.
How do I work it out the travelling charge?
Charges are worked out as follows: total distance travelled (including return trip), multiplied by £0.40p and then rounded to nearest £5. Some travelling charges may be adjusted if all of the journey is non-motorway due to additional time involved. For distances over 100 miles from Swindon (such as Brighton or Exeter) the minimum massage is 90 minutes.
Note: Additional Charges
If you are within the M25 area then there will be a surcharge of £30.
For bookings past 9pm the cost increased by 50%. For the rare times I can offer past midnight then the cost is increased by 100%.
How far will I go? (You'd be surprised!)
Below are two maps showing the area I'm happy to cover (click to see larger versions).
The first map (left) shows the maximum area I will travel within - anywhere within the rainbow area and up to the red line is no problem. For outside of this area please enquire. Toll road and ferry charges will also need to be covered, where applicable.
The second map (right) shows the local area that I will travel to with a minimum travelling charge of £10 (it's a maximum distance of 10 miles from my home). For anywhere outside of the rainbow area on this local map your rate will be calculated by mileage from my base to your post code, with a minimum travelling charge of £20.
CLICK EITHER MAP TO SEE LARGER VERSIONS!
CLICK EITHER MAP TO SEE LARGER VERSIONS!
Detailed Price Breakdown
| | |
| --- | --- |
| 90 Minute Session: | £65 |
| 60 Minute Session: | £50 |
| 30 Minutes Extra Time: | +£20 |
| 60 Minutes Extra Time: | +£40 |
| Travelling Rate (rounded to nearest £5): | 40p per mile |
| Mimimum Travelling Charge (within 10 miles Swindon): | +£10 |
| Minimum Travelling Charge (outside 10 miles Swindon): | +£20 |
| Within M25: | +£30 |
| Watching (each): | +£20 |
| OR Platinum Watcher Experience: | +£50 |
| After 9pm: | +50% |
| After midnight (if available): | +100% |