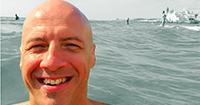 If you're within 10 miles of my home here in Swindon I can come to you for about an hour of massage for just £55 (£45 for one hour of massage, plus £10 minimum travelling charge). If you'd like a 90 minute massage, it will be £20 extra - most people prefer 90 minutes, though the choice is naturally yours!.
I have a reasonable additional travelling charge to mostly cover my fuel and running costs. It's purely based on mileage and is never guessed or made up - I profit very little from the travelling! Scroll down to see a map of the area I'm happy to cover. (Please note, my minimum travelling charge, outside of Swindon is now £15).
I can also offer extra time after the massage, for those that would like a little more time with me for chat, further fun, or company - ask me if you're interested.
For example costs please see the following table of destinations - these prices are total, including travel and a one hour massage. For 90 minutes, add £20.
Please note, these are purely to give you an idea of cost - you must contact me for an exact price which will be calulated from your postcode.
This list is by far not a restricted list of the only places I travel to... let me know where you are (town or postcode) and I will get back to you with a total price. Click here to ask
Bristol
£80
Coventry
£95

Oxford
£70

Weston-super-Mare
£105
Brighton (90m min)
£155
Salisbury
£80
Cheltenham / Gloucester
£70
Tewkesbury
£80
Newbury
£70
Guildford
£100
Reading
£80
Bradord-upon-Avon
£80

Aldershot
£90

Woking
£95
Stratford-upon-Avon
£85
Calne
£65
Bath
£80
Burford
£60
Stroud
£70
Cirencester
£60
Southampton
£95
Exeter (90m min)
£155
Banbury
£90
Faringdon
£60
Charges are worked out as follows: total distance travelled (including return trip), multiplied by £0.35p and then rounded to nearest £5. For distances over 100 miles from Swindon (such as Brighton or Exeter) the minimum massage is 90 minutes.
Below are two maps showing the area I'm happy to cover (click to see larger versions).
The first map (left) shows the maximum area I will travel within - anywhere within the rainbow area and up to the red line is no problem. For outside of this area please enquire. Toll road and ferry charges will also need to be covered, where applicable.
The second map (right) shows the local area that I will travel to with a minimum travelling charge of £10 (it's a maximum distance of 10 miles from my home). For anywhere outside of the rainbow area on this local map your rate will be calculated by mileage from my base to your post code, with a minimum travelling charge of £15.
CLICK EITHER MAP TO SEE LARGER VERSIONS!
CLICK EITHER MAP TO SEE LARGER VERSIONS!